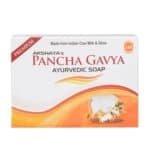 Pancha Gavya Ayurvedic Soap
₹ 75.00
Premium Panchagavya Ayurvedis Soap
Description
Reviews (4)
Why To Buy?
Description
Akshaya's Ayurvedic Panchagavya Soap is a therapeutic soap loaded with skin-benefiting ingredients like Panchagavya Gritha, Aloe vera, neem oil, turmeric, olive oil, honey and orange oil.
Panchagavya Ghritha is a concoction of five components, namely, cow milk, curd, butter, cow urine, curd, and cow dung juice. These panchagavya ingredients has immense benefits in cleansing the skin.
Aloe Vera: Aloe Vera is well known for its healing properties for a variety of minor ailments and to enhance skin tone.
Neem Oil: Neem oil has a wide history as a folk remedy for skin infections. Incredibly potent in treating acne, fungal infections, warts or moles.
Turmeric: Turmeric helps to restore your skin's natural glow. Boosts skin healing and helps in securing skin from potential skin infections.
Olive Oil:  Moisturizes the skin and prevents water loss, guards the skin against pollution and prevents premature aging.
Honey: Natural moisturizer, a natural antiseptic, helps in getting rid of blackheads, avoids sunburn, fights acne and Pimples.
Orange Oil: Antiseptic and anti-inflammatory which makes it an ideal ingredient in your skin in reducing any wrinkles.