Demand for Guggal agarbatti is on the rise. You can find them in your neighborhood shops, boutique stores promoting organic and herbal items, as well as online! If you want to shop them online, just type any of these names and you will be flooded with information about the product, shops, web stores etc. If you're searching for Guggle Agarbatti, type names such as, Panchagavya agarbatti, cow dung agarbatti, organic agarbatti, organic incense sticks, cow dung incense sticks, or gobar agarbatti… you will find endless choices!
Commercially Available Agarbatti No Match With Guggal (herbal) Agarbatti
For those of you who want to compare the standard agarbatti with thee herbal or organic agarbatti, please know that there is no comparison. Benefits of agarbatti made with herbal and natural ingredients can't be compared with factory manufactured, chemically influenced incense sticks. The latter exude fumes that are harmful to inhale. They pollute environment by not only causing health problems for humans but also pet and stray animals, birds, and plants around us. Pricing and packaging should not be your criteria for buying a product. More so, products that exude fume and that you will inhale. It is wise to not take chances with your health.
Components or Ingredients Used in Guggal Agarbatti
Primary ingredients may include one or more from the following: Cowdung, Cow urine, Curd, Milk and Ghee. Similarly herbs used may include one or more of the following Guggal, Agaru, Tagar, Karpur, Tulasi, Menda Lakadi, Raal, Aavale, Chandan(Sandal), Nagarmota, Gantaapala shee, Vaj, Jatamansi, Kopporu, Kaas, Kapur Kanchali, Madhu & Javantri.
Benefits Galore!
Cow dung herbal agarbatti, cow dung incense sticks, or gobar agarbatti – whatever that you may want to call, they offer two sided benefits! They're not only an option to save you from chemically infused air. They keep insects and germs at bay, improve sleep and sleep pattern, relieve you of anxiety, thereby stabilizing your blood pressure, help the surroundings to get rid of bad odor, and fills homes with lovely fragrance. They make homes smell so good. If you have an auspicious occasion at home, using cow dung agarbatti with your favorite aroma will enhance the energies of your home taking it to another level.
Quality Matters
Good quality, handmade, cow dung organic agarbatti made using genuine raw material is no more a product, it becomes an experience. Demand for these products is on the rise because of the experience they offer. Cow dung agarbatti is not in demand in just local markets; global consumer is also looking for herbal agarbatti versions. Global citizen may not use it for the same purpose as an Indian or Asian would (for pooja or other such auspicious occasion). A global citizen may use it to improve the aura of their home, office restaurant, holiday resorts, etc.
Why is Cow dung agarbatti or Organic Agarbatti Called PanchGavya Agarbatti?
Gugal agarbatti is often referred to as panchagavya agarbatti and many stores sell it by this name. This is because herbal agarbatti is made with 5 gavya i.e. elements mentioned above. Cow dung, cow urine or gomutra, ghee, curd, and milk. These 5 components are used in their purest form to keep their benefits intact. All these components have medicinal value. Researches undertaken by globally recognized universities have reported it. These cows are reared and raised in natural, unpolluted, hygienic conditions and an ideal environment. These are desi cows, found only in India are recognized by their hump.
Shop Cow dung Agarbatti Online!
If you're interested in buying guggal herbal agarbatti for use or gifting the easiest thing to do is shop for them online. You can check product ingredients before placing an order, read product reviews, experience of users, and even shopping experience of people, buying from a particular online store. You can also find out how many sticks does each packet has and how long does one stick burn. Generally they last for 20 to 30 minutes. They are available in different fragrances; you can pick up whichever you like, strong, light, soft.
Cowkart.com offers authentic and affordable cow dung agarbatti's made from guggal and numerous herbs that are so perfectly organic and affordable with in the organic range.
You can shop them by clicking on the link here CowDung Agarbatti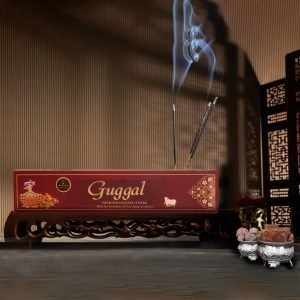 Happy shopping! Happy festivities! No getting carried away! Stay safe at all times!